Our Story
Family-owned Hearth & Home Inc. has been the Chicagoland's choice for fireplaces, grills and patio furniture since 1971. We began with a vision of providing quality products designed for enjoyment, durability and value. Our basic philosophy continues today as your complete satisfaction is our goal. Our goal isn't to just sell you a fireplace or grill; our goal is to provide you with service that fits your needs. We strive to provide our customers with the best in service and selection. We welcome you to visit our 5,000 square foot showroom and experience a supreme selection of designer hearths, stunning fireplaces, comfortable patio furniture and high-quality BBQ grills: all at attractive prices.
In today's fast-paced, competitive world, don't you deserve to make the most of your family leisure time?
5,000 SQ. FT.
SHOWROOM
The Hearth & Home team welcomes you to visit our 5,000 square foot showroom and experience a supreme selection of designer products all at attractive prices.
Click the button below or the map for directions.
Don't Wait! Give Us A Call!
NFI Certified Staff
Harnessing the beauty and warmth of fire for the home is not a do-it-yourself project or something you should trust to the lowest bidder. Both for safety and performance, hearth and fireplace products require considerable technical knowledge and skill in their designing and installation.
Click here to continue reading.....
An indication of competence is an individual's training and testing. In the hearth products industry, the National Fireplace Institute® is the independent, nonprofit certification agency that produces professional training materials and conducts nationwide testing of technical knowledge and skills.
NFI Certification means that an individual has passed a rigorous examination based on a training manual that has been reviewed by industry experts. Certification may be earned by hearth industry professionals in three hearth specialties:
• NFI Gas Specialist
• NFI Woodburning Specialist
• NFI Pellet Specialist
At Hearth & Home, we believe it is important for our installation team as well as our sales staff and management to continue their education in the hearth industry. We are proud to have the most NFI Certified Hearth Specialists on staff in all of Illinois! Our dedication to these industry standards means that you can rest assured knowing that your fireplace or stove will be properly installed and held to the highest safety standards.
Visit our showroom or contact us for more information.
Meet The Hearth & Home Team
R. Patrick O'Donnell
President & Owner
Pat has been in the Fireplace, Patio and B-B-Q industry since graduating from St. Norbert College in 1978. As a second-generation owner, he has been instrumental in developing Hearth & Home into a business that has spanned over 50 years. As a freshman in high school in 1971, Pat has been involved one way or the other since its inception. Pat's product knowledge both current and historical is a rarity in the industry. Pat is NFI Certified in both gas and wood fireplaces.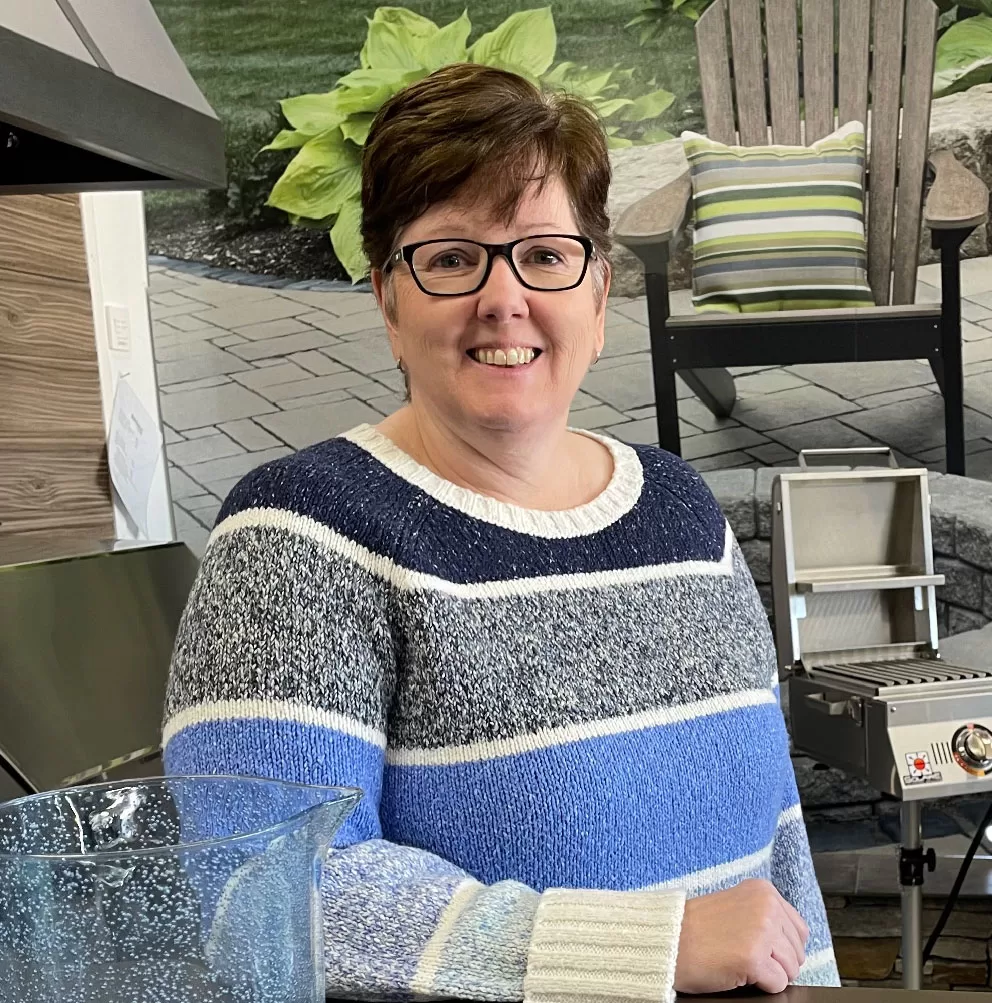 Mary O'Donnell Schappert
Vice-President & Owner
After graduating from St. Norbert College, Mary went to work in Finance before joining the family business. She is a second-generation owner with over 35 years in the industry. She is knowledgeable in all facets of the business, and specializes in Electric fireplaces and Outdoor Patio Furniture. Mary is always working and loves to be constantly busy. She holds an NFI Gas Certification.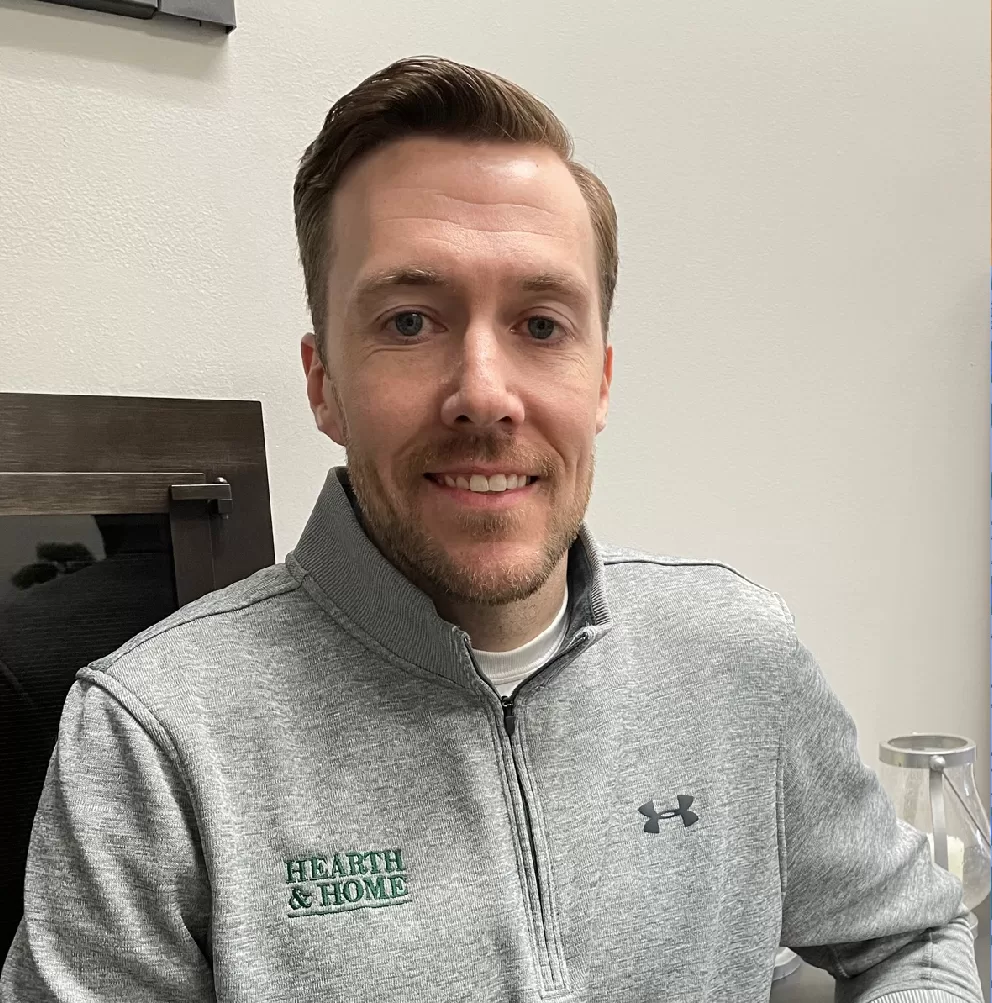 Ryan O'Donnell
General Manager & Contractor Coordinator
Ryan graduated from Marquette University with degrees in Finance and Marketing and spent several years in the Banking industry. Making the transition into the family business as the third-generation, he has been in the business since 2011. He is NFI Certified in both gas and wood fireplaces as well as Certified as a chimney sweep for Hearth & Home to verify potential projects. As the third generation, Ryan is transitioning Hearth & Home to continue for decades to come.
Anne O'Donnell
Office Manager
After graduating from Marquette University with business degree, Anne worked in retail management before staying at home raising three children. Anne then got back into the business world by joining her husband Pat at Hearth & Home in the late 1990's.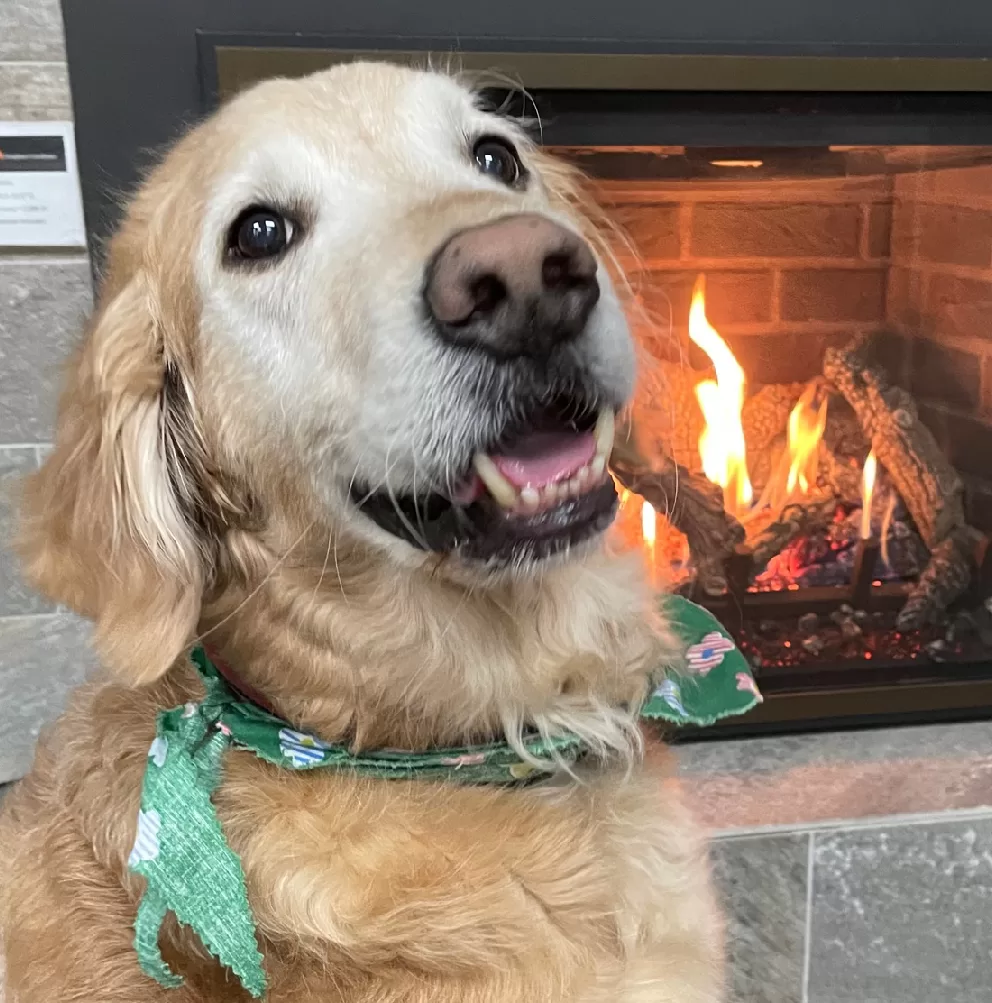 Darby O'Donnell
The Dog
Darby has been at Hearth & Home since 2013 when he was only 8 weeks old. He maintains the ability of helping everyone remain calm even on the most difficult of days. He is a favorite of many customers. His cheerful demeanor is contagious and many a customer has come in to just visit with him. All he asks for is a treat and a pat on the back.
Ed Schappert
Sales
Ed graduated from UIC and later married his wife Mary. He joined her in the business in the late 1990's. His specialty is as sales manager, and he holds an NFI Gas Certification. He is also very knowledgeable about wood burning and electric products as well as in the many product categories that Hearth & Home carries. Mary and Ed's two boys are in the military and will be serving our country as officers in the US Army.
Bernie
Sales
Bernie has been in the industry since the mid 1980's after graduating from University of Illinois. He managed his family's Fireplace, Patio and B-B-Q store in Clarendon Hills until their property was sold in 2009. Bernie joined us shortly thereafter and jumped in running full speed. Bernie is well versed in all sales categories at Hearth & Home, and holds an NFI Certification. He regularly sails his own boat and competes in races on Sundays in the summer. Oh yeah, he makes the best chocolate chip cookies!!
Tom
Sales
Tom started in retail after graduating from the University of Wisconsin. He came to work with us in 2017 and became our Gas B-B-Q Specialist. Having been in the industry since the late 1980's, Tom knows all aspects of our business. Tom loves to cook on his several grills. His smoked Cheez-its are addictive!!
Jim
Site Previewer/Installation Manager
Jim has been with Hearth & Home since 2007, starting in the warehouse and driving the delivery truck. Since then, he has filled almost every role in the store. Everything from servicing grills, fireplaces, and gas logs to being part of an installation team building full fireplace feature walls. All this experience makes him a great fit in his current role as job site previewer/installation manager.
Jeff
Installer
Jeff started with us here at Hearth & Home when he was just out of high school. His father Randy was our service manager at the time. Jeff learned his craft of servicing gas fireplaces over the years and now has over 25 years with us. Always happy and friendly, Jeff has many compliments and good reviews for his integrity.
Mario
Installer
Mario joined Hearth & Home in 2018 after a history of working with his hands. He quickly became an expert in fireplace service and installation and his attention to detail is what makes him perfect for this role.
Casey
Installer
Casey has a long history in the construction industry and joined Hearth & Home in 2019. Fireplace installations quickly became second nature to him and there is no size project that he can't tackle.
Nate
Warehouse/Service
Nate began at Hearth & Home in 2018 in the warehouse and brought creative thinking to how we can better configure storage of all our products. When not organizing the warehouse or out on deliveries he has taken a strong interest in fireplace service. In 2021 he began training, and in 2022 we added fireplace service technician to his responsibilities.
Mike
Warehouse/Service
Mike joined Hearth & Home in 2013 as the warehouse manager. Over the years his roles have expanded to include fireplace gas log service/installations and well as our resident fireplace panel cutting guru. Both of which keep him very busy during the fireplace season.
Want to join our team?
We're Hiring!
For more information about our company, and how to join the Hearth & Home team, click the below to contact us. Or, give us a call during our open hours to learn more about our current and open positions.
View Our Portfolio
Get Inspired
At Hearth & Home, we pride ourselves on providing our customers with unique and beautifully tailored fire appliance projects. To see some examples of our work, please click the button below.
Service In Barrington, IL
"I bought my gas insert from Hearth & Home in 2016 and we have enjoyed it (problem free!) for seven years. Today, I called Hearth and Home because, following the ice storm, my power is out and I remembered that my gas insert could be used under these circumstances. Pat, a wonderful employee, spent 45 Min on the phone with me trouble-shooting the unit until it provided my house with warmth."
"Thank you to Pat and Hearth and Home! Wonderful customer service!"
- Mary C.
Installation In Schaumburg, IL
"Fantastic experience all around!! We had a traditional gas fireplace that was draft and looking quite old. At the recommendation of a family member, we went to Hearth & Home to look at the gas fireplace inserts and spoke to Tom Patton. We couldn't be more happy with the experience from our first conversation with Tom to the gentlemen that installed it today. The difference in the heat that is generated is unbelievable."
"We should have done this a long time ago!"
- Kimberly R.
Installation In Park Ridge, IL
"My wife and I just wanted to tell you how pleased we are with our new hearth and fireplace! And please extend a big KUDOS to Robert and Oskar. They did an outstanding job! Their attention to detail cannot be overstated. They were also very careful about confining dust and cleaned up nicely at the end of each day. Last, but not least they were both courteous and very nice and polite when responding to our questions."
"Well done!"
- Gerry & Terri B.